Fishtail is the Journal of the Velocette Owners Club
A5 format, usually 64 pages. Published eight times a year.

Copies are mailed directly to all current members.

As well as club news and events, our small ads reach in excess of 3,000 Velocette enthusiasts and a "wanted" ad (available only to members) can sometimes find those essential components to complete a restoration. Got something to sell and not a member? We accept relevant "for sale" ads from anybody. Nearly every issue contains invaluable technical advice and reference information.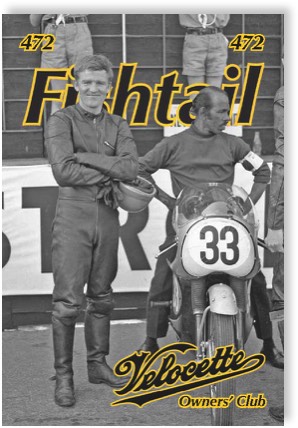 Deadlines for all contributions (adverts, articles, letters, etc.):
| Issue | Copy Deadline | Doormat Date | Additional info |
| --- | --- | --- | --- |
| 467 | 10-Mar-2020 | 3-Apr-2020 | (64 pages) |
| 468 | 28-Apr-2020 | 23-May-2020 | (96 pages, AGM Edition) |
| 469 | 16-Jun-2020 | 10-Jul-2020 | (64 pages) |
| 470 | 28-Jul-2020 | 21-Aug-2020 | (64 pages) |
| 471 | 8-Sep-2020 | 2-Oct-2020 | (64 pages) |
| 472 | 27-Oct-2020 | 20-Nov-2020 | (96 pages, Xmas Edition) |
| 473 | 8-Dec-2020 | 4-Jan-2021 | (64 pages) |
| 474 | 26-Jan-2021 | 19-Feb-2021 | (64 pages) |
| 475 | 9-Mar-2021 | 6-Apr-2021 | (64 pages) |
Chick
Here
to see Covers and Contents from Fishtail issue 300 to current issue